PIECE: CELLO CONCERTO IN B MINOR
SECTION 4.9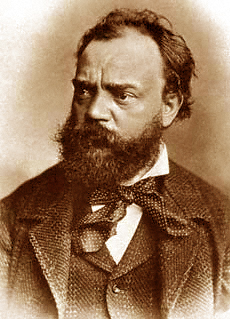 Fig. 4.9
Antonin Dvořák
Antonin Dvořák (1841-1904), a distinguished Czechoslovakian composer, wrote his Cello Concerto in B minor, Op. 104 in 1895. Dvořák was born in Bohemia (now Czechoslovakia) in humble circumstances (his father was a butcher and an innkeeper). Dvořák received musical training locally and in nearby towns, then moved to Prague when he was 16 to study music theory, composition and organ at the Prague Organ School (at the time, organ schools were the centers for music training in Bohemia). Following graduation, he began playing the viola in a dance band, and a few years later, members of his dance band were asked constitute the core of the newly opened Provisional Theatre in Prague. Dvořák became the principal viola player of the Provisional Theatre orchestra, and notable musicians such as the composer Smetana were conductors of this group (Dvořák played under Smetana's direction).
It took Dvořák many frustrating years before he was recognized as a composer, and Brahms played a key role in helping Dvořák achieve success. Brahms took notice of Dvořák's compositions, and highly recommended them to his (Brahms') publisher. From this point on, Dvořák's works began to be widely published, performed and acclaimed. During the 1880s, Dvořák toured Europe conducting his own music, and eventually obtained the position of composition professor at the Conservatory of Prague. Dvořák was a strong proponent of nationalism, and advocated the use of traditional folk songs and other aspects of a composer's national heritage in composing classical music. Many of his works contained nationalistic Czech elements, and he received international recognition for his symphonies, chamber music, oratorios, songs and operas.
From 1892-95, Dvořák lived in the United States, serving as the director of the National Conservatory of Music (it no longer is in existence). Two of the notable works he wrote during his time in America, were his New World Symphony (Symphony No. 9) and his Cello Concerto in B minor, Op. 104. Dvořák composed his Cello Concerto in B minor in 1895, and it was premiered in London in 1896, with Dvorak conducting. His cello concerto was an enormous success at its premiere, and to this day, it remains one of the most popular cello concertos in cello literature. Dvořák's masterful use of orchestration, his exquisite melodies, and his ability to write technically brilliant and virtuosic passages for the soloist are just a few of the features that have made this concerto a classic work of art. [25]
TECHNIQUE TIPS: Dvořák's Cello Concerto in B minor has three movements, and this arrangement is an excerpt from the first and second movements, Allegro and Andante. It begins with the first movement's main theme (measures 1-19), followed by two excerpts from the second, slow movement. This arrangement begins with an up-bow, and slurs are used to enhance the lyrical, soaring melody of the theme from Dvorak's first movement of his cello concerto. The tempo for this movement is allegro, and Dvorak provided the additional musical direction dolce e molto sostenuto, meaning play this section sweetly and with a sustained sound.
The second, slow movement begins in measure 20, and this lovely new melody begins with the tempo marking adagio ma non troppo, meaning play at a slow leisurely tempo, but not too slowly. Beginning in measure 26, the second excerpt from Dvorak's second, slow movement begins, and Dvorak's musical directions for this exquisite new melody are molto expressivo e largamente, meaning play this section with great expression and with a large, broad and sustained tone. In this section, the melody of one of Dvorak's songs can be heard: Leave Me Alone (Lasst mich allein), a song he originally wrote for voice and piano (this melody is found in the middle of the concerto's second movement, and a brief reference to this melody is also present in the third, last movement of the concerto). Dvorak used this melody in honor of his beloved sister-in-law, Josefina, who was critically ill at the time he wrote the concerto (Leave Me Alone was Josefina's favorite song).
© Copyright 2023 RK Deverich. All rights reserved.
*Although this online viola class is provided free of charge, all rights are reserved and this content is protected by international copyright law. It is illegal to copy, post or publish this content in any form, and displaying any of this material on other websites, blogs or feeds is prohibited. Permission is given for individual users to print pages from this website for their personal, non-commercial use.